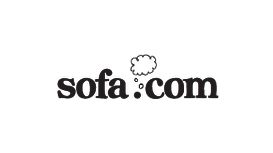 We started sofa.com in 2005 because we thought we could sell a better sofa, at a better price, than any high street store. Secondly, we wanted to cut the bull, so no phoney sales, or pressure-selling; just great sofas and beds, incredible customer service and great value. These days, we find our previous customers like us so much they not only come back for more but go on to recommend us to their friends and family, which makes us really chuffed. And if you really want to push the boat out, we also do custom fabrics by everyone from Ralph Lauren to Colefax and Fowler.
For us, lounging around is vital work. We've spent over 30,000 hours slouching, sitting, slumping and sprawling, all with the aim of creating the comfiest sofas on earth. Yes, if you're not 100% cock-a-hoop about your sofa, we'll come and collect it for FREE* and hand you back your cash - with no grumps, groans or quibbles. Interest free credit is available online and in our showrooms.
---
Reviews and Ratings
We do not have any reviews about Sofa.com available right now.